Thanks to fad diets, everyone has their own idea of what constitutes a healthy diet – and has a mental list of which foods will never touch their lips again. We've all been there: Low-Carb, No-Carb, Paleo, South Beach, Atkins, Gluten-Free, Foods That Match Your Eye Color – you name it. But these diet trends simply cherry-pick a few nutritional facts, served up alongside lots of disinformation.
The simple truth is that a healthful, nutritionally favorable diet means consuming a variety of vegetables, fruits, legumes, nuts, seeds and herbs. Fun fact: each and every plant food has its own distinct nutritional profile. More importantly: there are over 100,000 biologically active chemicals found in plants, agents that offer anticancer, antimicrobial, antioxidant, analgesic, and wound healing effects.
So how do you get those active chemicals to up our chances of living a long and healthy life? Let's break it down: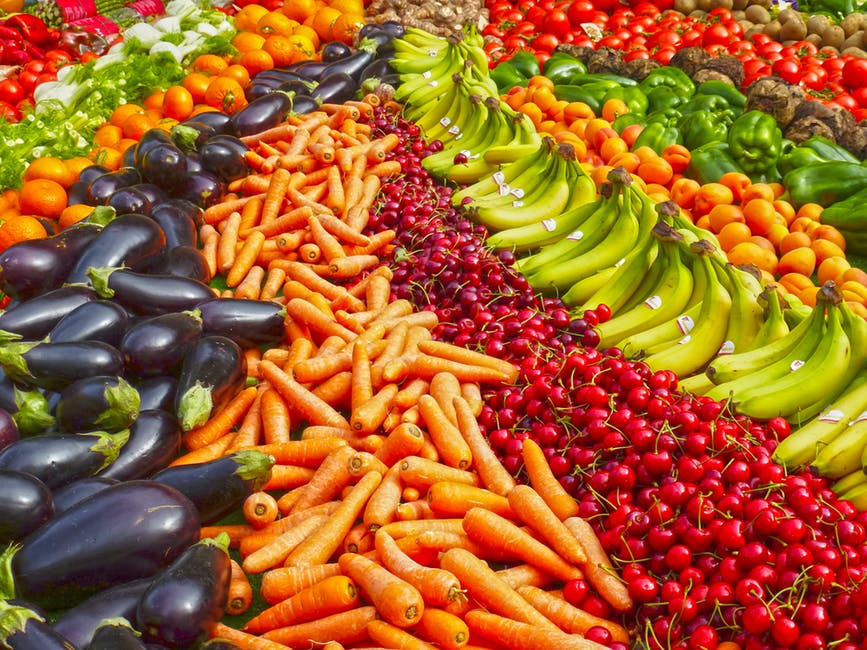 1. Eat "the rainbow," using a variety of natural plant foods.
Ensure that you consume a wide range of phytonutrients, many of which are antioxidants that offer a range of health benefits, from helping you lose excess weight and preventing disease, to slowing brain degeneration. The red in tomatoes comes from lycopene, the orange in carrots and sweet potatoes from alpha- and beta-carotene, the blues and reds of berries from anthocyanins, and the green in spinach and kale from lutein and chlorophylls. A variety of colors means a variety of health-promoting nutrients. 
2. The next time you load up at the grocery store, be sure your cart has these Superfoods.
Greens, Beans, Onions, Mushrooms, Berries and Seeds, known collectively to Nutritarians as G-Bombs. The planet's best foods should be a part of everyone's diet every day. Why? According to Dr. Fuhrman, these six magical foods benefit the immune system, can make you slim and healthy, and keep you that way while protecting you from cancer. Here's just a taste of the power they possess and a simple recipe to help you reap some of their amazing benefits:
Greens, cruciferous vegetables in particular provide unique phytochemicals (ITCs) with a variety of cancer-fighting effects. Greater consumption of these vegetables is linked to reduced risk of cancer and cardiovascular disease and a longer life.1-3
Beans and other legumes  are rich in fiber and resistant starch, which help keep blood glucose, blood pressure, and LDL cholesterol down, promote weight loss, promote colon health, and nourish the microbiome.4-7
Onions and garlic are linked to a reduction in the risk of several cancers, and their distinctive sulfur-containing phytochemicals have a number of actions that benefit the cardiovascular system.8-11
Mushroom phytochemicals are unique in their promotion of immune system function and their abiity to inhibit of estrogen production; mushroom consumption is associated with a reduced risk of breast cancer.12-15
Berry phytochemicals have anti-cancer and blood pressure-lowering effects, and are linked to a reduced risk of heart attack.  Blueberries in particular have also shown promise for improving brain health, in studies on memory and cognitive function.16-22
Seeds and nuts: Eating nuts regularly is associated with longevity, reduced risk of cardiovascular disease, and a healthy body weight. Different seeds have different nutritional benefits; flax and chia, for example, are rich in omega-3 ALA and lignans, anti-estrogenic phytochemicals linked to a reduction in breast and prostate cancer risk.23-27
3. Focus on the nutrient-density of your diet.
A standard weight loss "diet" is one that focuses on controlling portion size and cutting down on junk food. The absolute best diet is one that concentrates on the amount of nutrients that food can provide and their phytonutrient power to protect against cancer. Natural foods with a high nutrient-density contain a significant amount of vitamins, minerals and other healthful substances with respect to their calories. This way of eating, called a Nutritarian Diet, has surged in popularity just as interest in the health benefits of various ingredients – kale, turmeric, berries – has spiked. Superfoods describe not only G-Bombs, but many others, too. For the list of some of Dr. Fuhrman's must-eat foods, download his infographic 10 Best and 10 Worst Foods. Or for a deeper dive into the foods that benefit health and longevity, read Dr. Fuhrman's magazine to learn his choices for the planet's 100 Best Foods.

4. Break the junk food habit.
Processed junk foods are incredibly harmful to our health. They lead to obesity and illness, and cause detrimental chemical changes in the brain, affecting our emotional well being and drive cravings for more junk food. Eating junk food is a learned habit. These foods need to be eliminated entirely from your diet.
Kick start your transformation by cleaning out your refrigerator and pantry so you won't be tempted with unhealthy foods. Here's some easy ways to start:
Sauté with water or low-sodium vegetable broth instead of oil
Switch from cow's milk to unsweetened soy, hemp, or almond milk
Switch from sugar-sweetened breakfast cereal to steel cut oats topped with flax or chia seeds and berries
Add tofu into a veggie scramble instead of eggs
Say no to cheese
Finish your meals with fresh fruit rather than sugary desserts
5. Don't snack on healthy foods, either.
Learn to eat only at mealtimes, and only when you are hungry. If you are hungry between meals, it means you didn't eat enough during the meal, so adjust your portions accordingly. Refraining from snacking might be hard to do at first, but it will become second nature after a while.  It is especially important not to eat after dinner before bedtime.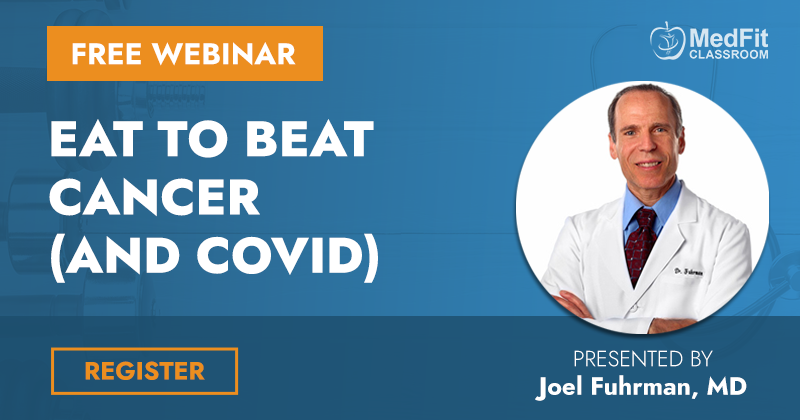 ---
Article originally printed on DrFuhrman.com. Reprinted with permission from Dr. Fuhrman.
Joel Fuhrman, MD is a board-certified family physician specializing in nutritional medicine. He is President of the Nutritional Research Foundation and the author of 7 New York Times bestselling books, including his most recent book, "Eat to Live". Visit his website, DrFuhrman.com.
References:
Zhang X, Shu XO, Xiang YB, et al. Cruciferous vegetable consumption is associated with a reduced risk of total and cardiovascular disease mortality. Am J Clin Nutr 2011, 94:240-246
Pollock RL. The effect of green leafy and cruciferous vegetable intake on the incidence of cardiovascular disease: A meta-analysis. JRSM Cardiovasc Dis 2016, 5:2048004016661435.
Higdon J, Delage B, Williams D, Dashwood R. Cruciferous vegetables and human cancer risk: epidemiologic evidence and mechanistic basis. Pharmacol Res 2007, 55:224-236.
Papanikolaou Y, Fulgoni VL, 3rd. Bean consumption is associated with greater nutrient intake, reduced systolic blood pressure, lower body weight, and a smaller waist circumference in adults: results from the National Health and Nutrition Examination Survey 1999-2002. J Am Coll Nutr 2008, 27:569-576.
Jayalath VH, de Souza RJ, Sievenpiper JL, et al. Effect of dietary pulses on blood pressure: a systematic review and meta-analysis of controlled feeding trials. Am J Hypertens 2014, 27:56-64.
Bazzano LA, Thompson AM, Tees MT, et al. Non-soy legume consumption lowers cholesterol levels: a meta-analysis of randomized controlled trials. Nutrition, metabolism, and cardiovascular diseases : NMCD 2011, 21:94-103.
Sievenpiper JL, Kendall CW, Esfahani A, et al. Effect of non-oil-seed pulses on glycaemic control: a systematic review and meta-analysis of randomised controlled experimental trials in people with and without diabetes. Diab tologia 2009, 52:1479-1495.
Rahman K, Lowe GM. Garlic and cardiovascular disease: a critical review. J Nutr 2006, 136:736S-740S.
Powolny A, Singh S. Multitargeted prevention and therapy of cancer by diallyl trisulfide and related Allium vegetable-derived organosulfur compounds. Cancer Lett 2008, 269:305-314.
Bradley JM, Organ CL, Lefer DJ. Garlic-Derived Organic Polysulfides and Myocardial Protection. J Nutr 2016, 146:403S-409S.
Galeone C, Pelucchi C, Levi F, et al. Onion and garlic use and human cancer. Am J Clin Nutr 2006, 84:1027-1032.
Borchers AT, Krishnamurthy A, Keen CL, et al. The Immunobiology of Mushrooms. Exp Biol Med 2008, 233:259-276.
Jeong SC, Koyyalamudi SR, Pang G. Dietary intake of Agaricus bisporus white button mushroom accelerates salivary immunoglobulin A secretion in healthy volunteers. Nutrition 2012, 28:527-531.
Li J, Zou L, Chen W, et al. Dietary mushroom intake may reduce the risk of breast cancer: evidence from a meta-analysis of observational studies. PLoS One 2014, 9:e93437.
Chen S, Oh SR, Phung S, et al. Anti-aromatase activity of phytochemicals in white button mushrooms (Agaricus bisporus). Cancer Res 2006, 66:12026-12034.
Krikorian R, Shidler MD, Nash TA, et al. Blueberry supplementation improves memory in older adults. Journal of agricultural and food chemistry 2010, 58:3996-4000.
Bowtell JL, Aboo-Bakkar Z, Conway M, et al. Enhanced task related brain activation and resting perfusion in healthy older adults after chronic blueberry supplementation. Appl Physiol Nutr Metab 2017.
Stoner GD, Wang LS, Casto BC. Laboratory and clinical studies of cancer chemoprevention by antioxidants in berries. Carcinogenesis 2008, 29:1665-1674.
Cassidy A, Mukamal KJ, Liu L, et al. High anthocyanin intake is associated with a reduced risk of myocardial infarction in young and middle-aged women. Circulation 2013, 127:188-196.
Cassidy A, O'Reilly EJ, Kay C, et al. Habitual intake of flavonoid subclasses and incident hypertension in adults. Am J Clin Nutr 2011, 93:338-347.
Johnson SA, Figueroa A, Navaei N, et al. Daily blueberry consumption improves blood pressure and arterial stiffness in postmenopausal women with pre- and stage 1-hypertension: a randomized, double-blind, placebo-controlled clinical trial. J Acad Nutr Diet 2015, 115:369-377.
Whyte AR, Schafer G, Williams CM. Cognitive effects following acute wild blueberry supplementation in 7- to 10-year-old children. Eur J Nutr 2016, 55:2151-2162.
Mattes RD, Dreher ML. Nuts and healthy body weight maintenance mechanisms. Asia Pac J Clin Nutr 2010, 19:137-141.
Grosso G, Yang J, Marventano S, et al. Nut consumption on all-cause, cardiovascular, and cancer mortality risk: a systematic review and meta-analysis of epidemiologic studies. Am J Clin Nutr 2015, 101:783-793.
Kris-Etherton PM, Hu FB, Ros E, Sabate J. The role of tree nuts and peanuts in the prevention of coronary heart disease: multiple potential mechanisms. J Nutr 2008, 138:1746S-1751S.
Buck K, Zaineddin AK, Vrieling A, et al. Meta-analyses of lignans and enterolignans in relation to breast cancer risk. Am J Clin Nutr 2010, 92:141-153.
Thompson LU, Chen JM, Li T, et al. Dietary flaxseed alters tumor biological markers in postmenopausal breast cancer. Clin Cancer Res 2005, 11:3828-3835.