Eat Well, Live Well, Age Well will be an entertaining, yet informative webinar based on my new book. I'm a nutritionist, chef, personal trainer, and wellness educator who shows people of all ages how to understand and embrace aging with strategies that help each of us live life to the fullest as we move on in years.
This is a very timely topic, whether we are that aging person, or a youngster entering professions that will have an increased responsibility to cater to a nationwide demographic of an aging population.
Eat Well, Live Well, Age Well conveys that there is no such thing as anti-aging… while growing old is inevitable and should be embraced, all of us can make every day of our lives wonderful through lifestyle habits that work. Living well is the only way to survive and endure aging.
Eat Well, Live Well, Age Well, will teach you that physically, emotionally, and professionally, we all have room to learn and grow. By following the simple concepts outlined in this session you can dramatically reduce the stresses that contribute to energy drain and premature aging.
Eat Well, Live Well, Age Well poses the questions we all have about aging, with practical solutions to follow. What we usually take to be negative aspects of aging will be accompanied and countered by strategies to live well. Fun tips and informative solutions for combating age related issues will be provided.
Eat Well, Live Well, Age Well looks into scientific research that is showing promising results to stave off the ill effects of a diminishing body through food choices, medical intervention, lifestyle and emotional behaviors.  With a positive attitude about aging, and understanding what is going on with you, you can dramatically improve the quality of your life. Mental attitude and how you see yourself today, will play a huge role in keeping you feeling youthful and vibrant in all your days to come.
Join me for this webinar! Click here to register.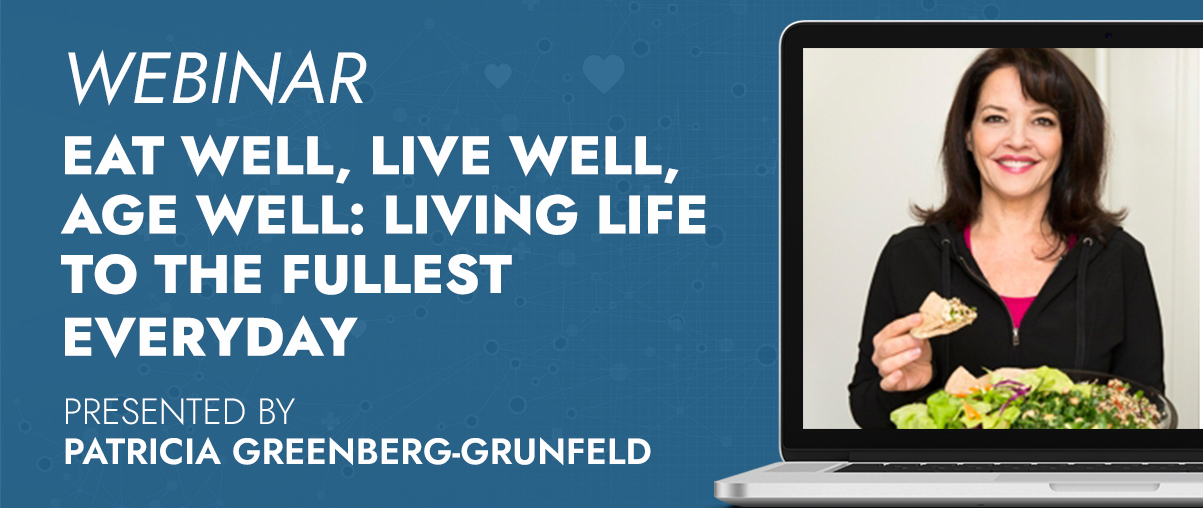 ---
Patricia Greenberg, The Fitness Gourmet has 30 years of experience as a Nutritionist, Chef, and Wellness educator. Patricia holds a BS in Nutrition and Food Science from Queens College, NYC, a Culinary Arts Degree, from Le Cordon Bleu in Scottsdale, AZ, and is an ACE Certified Trainer, with a sub-specialties in Sports Nutrition and Senior Fitness. She is also certified as a Dementia Friends Seminar educator through Alzheimer's LA. She is the author of four books, "The Whole Soy Cookbook", "Soy Desserts", "Scrumptious Sandwiches, Salads, and Snacks", and, "Eat Well, Live Well, Age Well!" She is a regular guest expert on both national television and radio programs, which over the years, has had an impact on the lives and health of thousands of people.