Ann Marie Turo, occupational therapist, yoga and Pilates instructor and Reiki master, owns a thriving Pilates-based studio. When Turo was diagnosed with a breast cancer reoccurrence in 2002, she was devastated. Despite having limited range of motion, strength and endurance, as well as decreased ADL function, it was not recommended that she have any rehabilitation. This situation is not unusual.
After undergoing a self-described "meltdown," she decided to take matters into her own hands. Turo designed her own rehabilitation program, which included visualization, Pilates, yoga and Reiki, along with traditional occupational therapy modalities.
Turo believes that an "integrated" approach is the best way to heal physically and psychologically from breast cancer. That is why she created Integrated Mind and Body in Boston.
Pilates is enjoying wide popularity throughout the United States as a form of exercise. It focuses on the whole person, uniting mind and body through a series of flowing movements that require both flexibility and strength. Recently, therapists have began incorporating Pilates as part of their general rehabilitation program for athletes, back injuries, hip/knee replacements and even autism.
Breast cancer survivors are starting to benefit from Pilates as well. A recent pilot study (Keays, 2007) found a modest effect in improving shoulder abduction and external rotation. However, further research is necessary to determine both the safety and efficacy of Pilates, as well as optimal exercise guidelines.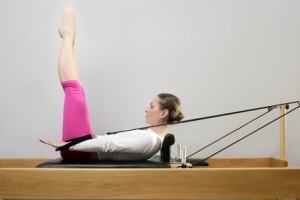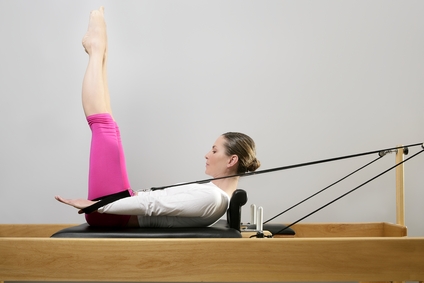 There are eight principles of Pilates: relaxation, concentration, control, centering, fluidity, precision, stamina and breathing. Joseph Pilates, who developed this movement method, believed that one must pay attention to each exercise and perform it with the utmost control to avoid injury. He believed that it is not the quantity that counts, but the quality of each repetition.
Pilates exercises initiate from the "powerhouse," or core musculature. Therefore, every exercise is an abdominal exercise that initiates at the center and flows outward. This is in tune with developmental principles and ensures a proper base from which to perform more distal work.
Proper breathing is another cornerstone of this technique. Deep breathing is essential to activate the transverse abdominal muscles, which is why the exercises are coordinated with both inhalation and exhalation. Inhalation facilitates spinal extension and trunk stability while exhalation facilitates spinal flexion and scapular depression.
During upper extremity work there should be a sense of gliding the scapulae down the back to promote shoulder stability. Pilates can incorporate more than 500 exercises, which can be performed either on a mat or on special equipment, such as the Cadillac, Reformer and barrels. These exercises can be modified to meet the needs of patients through the use of springs to assist and mobilize the muscles, and provide resistance when patients are stronger.
Women who are diagnosed with breast cancer will have surgery, which can be followed by systemic treatment such as chemotherapy and/or hormone therapy and then, possibly, radiation. After undergoing breast cancer surgery and treatment, the body seems lost and out of control. Breast cancer survivors are faced with many issues including fatigue, loss of range of motion and strength in the affected arm, lymphedema risk, weight gain and poor posture.
Furthermore, there are psychological implications to being diagnosed with a life-threatening disease and breast removal. Pilates is one tool that can help one regain a sense of mastery and control over a body that seems foreign and lost.
How Does the Rehab Work?
Loss of range of motion and tightness in the axillary and pectoralis regions is common after breast cancer surgery, especially after axillary lymph node dissection and mastectomies. The more extensive the surgery, the greater the limitations secondary to greater tissue loss, pain and scar formation. Because many of the Pilates exercises are performed in the supine position, the neck and back can be comfortably supported. Active assisted exercises with a towel or band are used to improve mobility of the shoulder girdle while the spine is in a neutral position.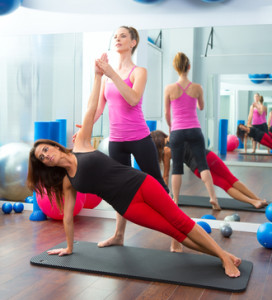 Pilates focuses on the scapula stabilizers including the rhomboids, latissmus dorsi, middle/lower trapezius and serratus anterior while performing active range of motion, which is different than a traditional rehabilitative approach. The use of imagery is often used to coordinate the mind and body, so one may be told to "place those wing bones in your back pocket." Even some of the exercises can be done in side lying, which eliminates gravity, making the shoulder exercises easier to perform.
Pilates emphasizes proper alignment and posture which improves movement efficiency, opens up all the lymphatic channels and facilitates good breathing.
The risk of lymphedema, the buildup of protein-rich fluid in the chest, trunk and arms, is another concern for anyone who has received lymph node dissection and/or radiation. This is due to scarring of the lymphatic vessels that disrupts lymphatic flow, along with the loss of mobility. This can interfere with normal lymphatic or venous drainage from the arm.
Since diaphragmatic breathing is used in Pilates both to stabilize and mobilize the spine, this enhances trunk organization. Lymphatic fluid can be propelled through the body with this type of breathing, along with proximal to distal exercise. As one inhales and exhales, the pressure changes, stimulating lymphatic return. In addition, diaphragmatic breathing lowers heart rate and blood pressure, creating a relaxation response conducive to emotional healing.
Use of the deep stabilizer muscles, including the transverse rectus abdominas and multifidus, encourages pumping to the thoracic duct, the main area for lymphatic return. This in effect clears the trunk for fluid from the axillary region and pectoralis area where lymph flow may be impaired.
Once the trunk is cleared, one can exercise the arm at risk. Compression garments or bandages should be worn while exercising if at risk. Exercises should be progressed slowly and gradually to allow the lymphatic system to adjust to an increased lymphatic load.
There are usually few repetitions for each Pilates exercise, which is a natural fit for women at lymphedema risk.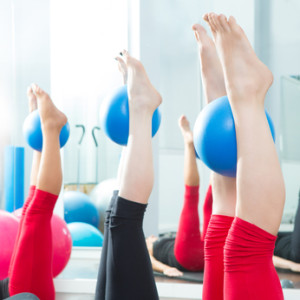 Dealing with Fatigue
Fatigue both during and after cancer treatment is the most common side effect of the treatment. Many women feel unable to function and perform daily activities while undergoing chemotherapy or radiation treatments, and this fatigue can become overwhelming as treatments accumulate. However, many research studies have confirmed the advantages of both strength and aerobic conditioning even during treatment. Pilates offers a gentle introduction or re-introduction to regular exercise that can slowly help restore strength and endurance. One can gradually build up by performing the exercises at least twice a week. This should be combined with an aerobic conditioning program, such as walking, when able.
It is time to think about alternative approaches to meeting the needs of this population, along with individuals suffering from other chronic conditions. As one can readily see, Pilates offers many benefits to women recovering from cancer, especially since occupational therapists are well trained in the modification of such activities and exercises.
At Integrated Mind and Body, Turo works with breast cancer survivors as well as individuals who have had depression, total knee replacements and total hip replacements. She requires a signed physician's release form, and does a full intake on clients that includes medical history, pain, postural analysis and ADL evaluation, as well as the standard occupational therapy assessments.
Clients pay out of pocket to receive Pilates and Reiki in conjunction with traditional therapy services. Turo demonstrates that therapists can balance an occupational therapy frame of reference along with other healing modalities to be successful.
---
Reprinted with permission from Naomi Aaronson, MA, OTR/L, CHT; Also published on Advance Healthcare Network.
Naomi Aaronson, MA, OTR/L, CHT can be reached at www.recovercisesforwellness.com.