Parkinson's Disease is known as a motor system disorder and there is currently no cure. When individuals have decreased levels of dopamine changes start to begin. A tremor of the hands, face, legs, and other body parts may be noticeable at first then more pronounced symptoms become apparent when the disease progresses. At this point, individuals may have trouble walking, talking and participating in daily activities.
Exercise is known to help ease the symptoms of Parkinson's disease. In my experience, clients work on physical as well as vocal exercise. Each of my clients is doing something daily. It is good to mix up your workouts so you practice different movements. You may find yourself working with a Physical Therapist as well as Personal Trainer.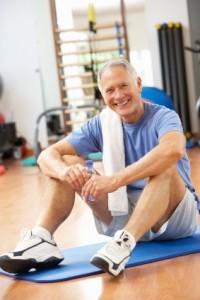 When working out in the gym, it is important to start with a ten minute warm- up and shorter sessions, slowly working up to a thirty minute workout. Seeking the help of a personal trainer is very beneficial since each person with Parkinson's is different. Personal Trainers can prescribe safe exercises, and show you what level you should begin working out.
My client, Mary, works on a combination of different exercises such as, weight and cardiovascular training, Rock Steady Boxing (a kickboxing class for Parkinson's Disease), LSVT BIG and LSVT LOUD. We rotate exercises each session so I can see what she is practicing and go over it with her.
The LSVT exercises are originally given by a Physical or Occupational Therapist. These are big movement exercises to help with stiffness and prevent shuffling of the feet. LSVT LOUD are vocal exercises which are prescribed by a Speech Language Pathologist. Click here to find an LSVT Practitioner in your area.
It is important to remember to take certain precautions when working out at home. Pick up your feet if you take walks to avoid falling and have someone go with you. Make sure to remove throw rugs in the room you choose to exercise in. Practice balance exercises near something that is sturdy to hold on to. Avoid working out in rooms with poor lighting so you do not trip.
In conclusion, exercise, is very important for anyone with Parkinson's Disease. The more you move, the less stiff your joints will become. Land and pool exercises are a great choice for increasing flexibility, mobility, and balance. When working out at home, choose a safe environment that has bright lights and non slip floors.
---
Robyn Caruso is the Founder of The Stress Management Institute for Health and Fitness Professionals. She has 15 years of experience in medical based fitness. Contact Robyn by email at: tsmi.caruso@aol.com
References:
http://www.ninds.nih.gov/disorders/parkinsons_disease/parkinsons_disease.htm
http://www.webmd.com/parkinsons-disease/guide/parkinsons-exercise
http://www.webmd.com/parkinsons-disease/news/20121106/exercise-good-parkinsons